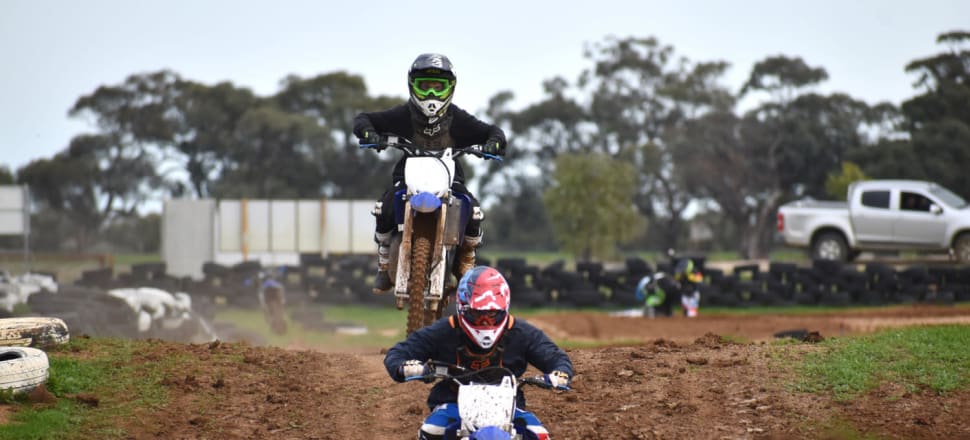 5370537724001
Motocross has always been a big part of Deniliquin teenager Cassie Lea's life.
And she's easy to spot among the mud or dust flying around on the Deniliquin track, thanks to her bright pink motorcycle suit.
While the 15 year-old only took up the sport four years ago, dirt bike riding is in her blood, with her father Andrew Lea an avid motorcyclist.
Andrew helps with the running of Deniliquin Motorcycle Association ride days, while Cassie's mother Natalie regularly helps in the canteen and with flag duty.
Natalie also organised a raffle last year, and the Lea family is always there ready to help at any working bee.
Her bother Bryce is also a regular rider at the Deniliquin Motorcycle Association ride days, and Cassie said the siblings have a healthy rivalry at home.
They often duel each other in the paddock at their property.
''It's good to have my family all involved,'' the teen rider said.
''It was because of my brother that I was interested in riding.
''He got a little 50cc bike for Christmas about four years ago and I started riding it too.
''Now I ride a 125cc and I'm in the junior ranks at the local track.
''At the moment I just go to ride days around Deniliquin and its surrounds, but I might enter some competitions next year.''
As one of few female members of the Deniliquin Motorcycle Association, Cassie said she would encourage more to get involved in the sport.
''It's just a lot of fun,'' she said.
''I especially love the jumping and taking the corners.
''The beauty of the Deni track is that you're only competing against yourself, so you can go at your own pace.
''We progress in our own time and don't have to step up higher until we're ready. I'd recommend anyone with an interest to give it a try.''
The next home track event for the Deniliquin Motorcycle Association is round nine of the Motorcycling Victoria Northern Region Series competition on August 18.
The next ride day will be held at the Larcombe Lane track (past the Deniliquin Racecourse) on Sunday, September 22.
Anyone wishing to get involved in riding or the association is invited to contact association secretary Andrew McBurnie on 0427811793 or visit www.facebook.com/DeniliquinMotorXActionGroup/ for more information.