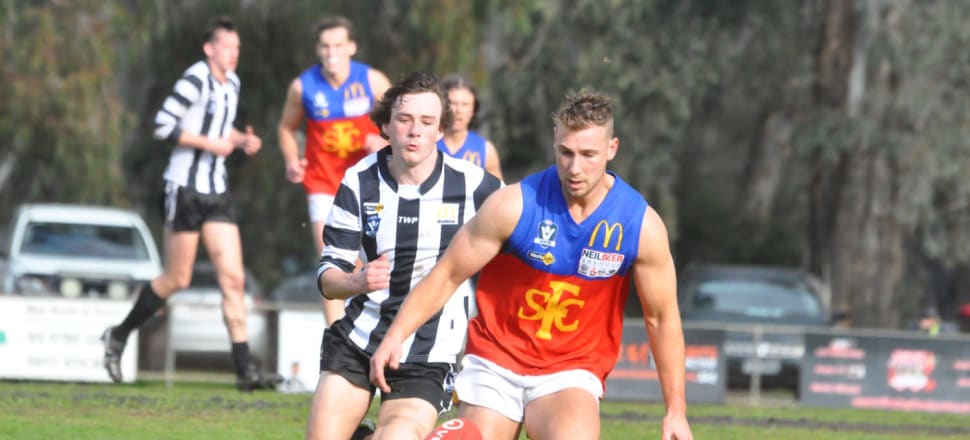 5370537724001
With finals nearing, Seymour continues to do everything it can to lock up its spot in the Goulburn Valley League top six.
And a 19-point win against Euroa at Memorial Oval on Saturday was the first of four ticks on its to-do list.
With Rochester and Euroa nipping at the heels of those clubs sitting just inisde the top six, it was an important win for the Lions, who face tough tasks in last year's grand finalists Shepparton and Kyabram in the final three regular season rounds.
But the match against Euroa was by no means simple for Seymour, with the home side getting the game on its own terms to be 19 points up at the major break.
''It was a bit of a tough slog in the opening half,'' Seymour co-coach Jason Cole said.
''It was a pretty contested game and Euroa's pressure made us turn the ball over a lot.''
But in an inspired turn, the Lions flipped the switch and booted eight goals to one in the third quarter to build its own 25-point lead ahead of the final term.
''We just needed to stop overusing the ball and clean up our disposals,'' Cole said.
''To the boys' credit they turned things around and I thought it was a great performance in the second half.''
Kyle Winter-Irving was at his best down forward, providing a major target for the Lions to finish with three goals.
Huw Jones joined Winter-Irving on the scoreboard with three of his own, while Seymour's midfield trio in Cole, Tom Freeman and Dylan Scopel also dominated.
''Kyle's presence up forward was pivotal for us,'' Cole said.
''He took some big marks and it was really important to have someone take massive marks in contested games.
''But we had plenty of contributors, which was nice to see.
''Hopefully we can keep this form up.''
It was not all roses for Seymour though, who lost Alex Johnston to a hamstring injury while Harrison Wade came off the ground with concussion.
And adding to the Lions' injury concerns was missing gun midfielder Zac Keogh, who suffered a calf complaint at training during the week.
Seymour will have a week off — with the league having a split round — before returning to Kings Park to face reigning premier Shepparton.
''The message after the game was to make sure everyone looked after their bodies,'' Cole said.
''We will train both nights this week and keep working hard.
''Sometimes it can be a bit tough to come back off the bye.
''We can't afford to come out slow against the Bears.''
●Seymour's reserves held on for a thrilling two-point victory against the Magpies to keep their mantle at the top of the table. Harley Taylor-Lloyd was a man on a mission down forward, kicking four goals while Julian Morgan and Mitch Mclean were also influential.
Final score: Seymour 14.9 (93) def Euroa 11.8 (74)
Goalkickers: K. Winter-Irving 3, H. Jones 3, B. Cox 2, J. Anderson 2, J. Cole 2, B. Rigoni, R. Clarke.
Best: K. Winter-Irving, D. Scopel, T. Freeman, J. Cole, A. Adams, B. Cox.