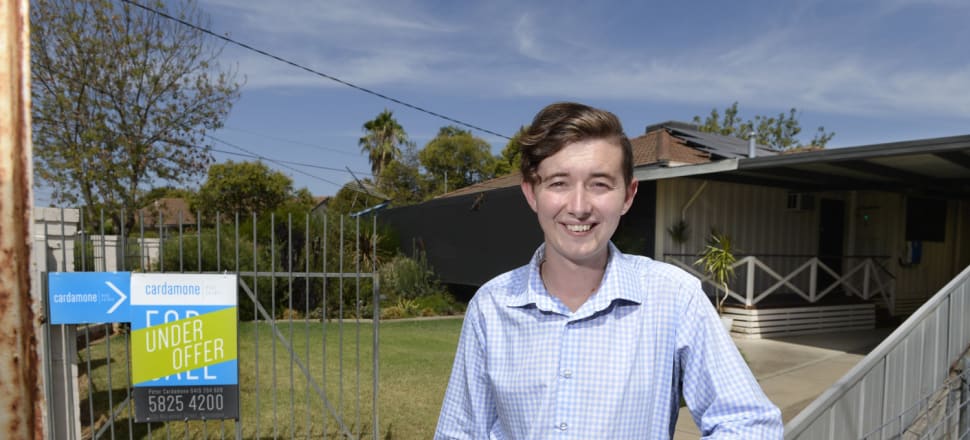 5370537724001
Eagerly awaiting the keys to his new home, Shepparton's Alex Newling, 20, could never have imagined he would be in the position he is today.
Homeless at the age of 17, Mr Newling moved into the Education First Youth Foyer in Fryers St, Shepparton, and was determined to make the most of a fresh start.
Mr Newling said he became interested in the idea of buying his first home about halfway through his time living at the facility.
''I was speaking a lot about future goals with staff at the Foyer and it all became clear,'' he said.
During this time, Mr Newling began working with Ken Muston Automotive in Shepparton as a car salesman.
''I like talking about cars and I get to do that every day,'' he said.
''I also really like that customer interaction.
''The fact that I can do that and talk about cars is really, really good.''
Mr Newling and his girlfriend Hayley Revell, 19, started their savings journey.
About this time, Mr Newling was fortunate enough to be able to move in with his girlfriend's family to further support their goals.
''We were looking at a lot of houses at this price bracket and they were going very, very quickly,'' Mr Newling said.
''Then we saw this on the market for about a day.
''We went through the following day and then we put an offer in the day after that, so it was on the market for three days.''
Education First Youth Foyer manager Anita McCurdy was proud of Alex's achievements as the first Foyer student to have bought a house.
''Alex has always been very focused about what he wanted to do,'' she said.
''He is a great role model for other Foyer kids that come through, letting them know it's actually possible to do.''
Ms McCurdy said this was the ideal outcome for her organisation which supported young people to build up their life skills.
''The outcome that we've always wanted for every kid is to be in private rental, let alone buying your own house — so he's exceeded that, which is amazing,'' she said.
''Now we've achieved the first student that has ever bought a house, so that's a great goal for us to continue with.''
Education First Youth Foyer team leader Matt Jobling said about 40 students had come through the program and obtained private rentals.
''It shows the whole community is backing us and believing in these young people, which is fantastic,'' he said.
''It's great to see a young person come through the program and purchase their first home.''
When saving for a home, Mr Newling said it was ''important to force yourself to put aside a set amount of money every week''.
''We both just had a set amount of money that we would put into another account and we just wouldn't touch it,'' he said.
''It builds up quite quickly if you do it like that, too, and you lose the temptation to touch it after a while anyway.''
Mr Newling said he was looking forward to having more space in his own house as well as a large driveway for his beloved car.
Mr Newling and Ms Revell received the keys yesterday and were looking forward to moving into their new Shepparton home.