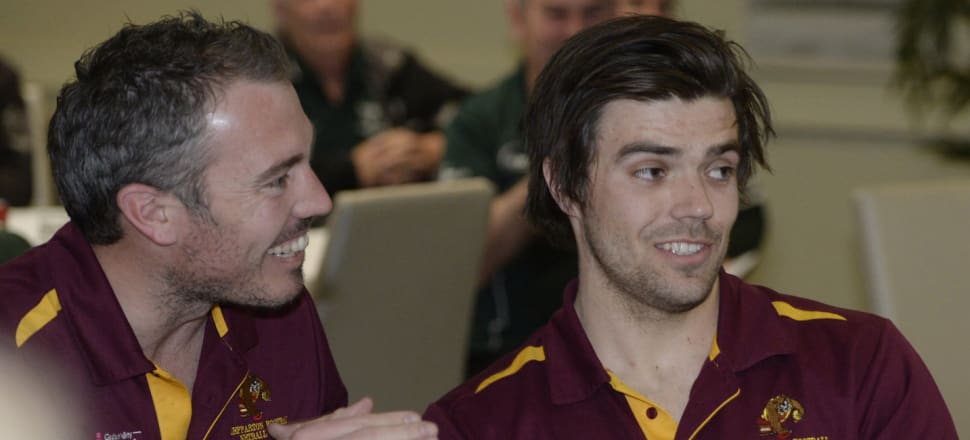 5370537724001
An early Christmas present could prove to be the gift that keeps on giving for Shepparton.
The Bears searched far and wide for a suitable coaching candidate to replace Brad Campbell last year, but it turned out the perfect man for the job was right under their noses the entire time.
Shepparton stalwart Sean Harrap stepped up to the plate in December after completing a three-year tenure as Campbell's assistant, and has been swinging for the fences ever since.
''It's been really enjoyable,'' Harrap said.
''You have moments where last week you had to tell two blokes they don't get the opportunity to play in a prelim, but I suppose that comes with the job and it's not ideal to be doing that, but it is what it is.
''I've really enjoyed the role and along with all of the other boys just enjoyed being around the footy club. It's a great place to be and I've been there since I was a little tacker, so I just love being around the place.
''I've been big for creating strong relationships. Even though they're strong at the moment, you can always gain strength in any relationship, whether you're 34 or you're 17.
''So I just love the role and the challenges that come with it and the support that I've had with Blake (Campbell) and 'Mell' (Anthony Mellington) and Tony Pellegrino has been huge.
''It's not just up to me to pull these strings and get these guys over the line, it's up to a whole collective within the club and the footy department to get where we've got to today.
''We deserve the opportunity to be there and we're just going to give it everything, which we do every week.''
Harrap has steered the Bears into a second decider in as many seasons and with all three of Shepparton's open-age netball teams also in action on Sunday's Goulburn Valley League grand final — and a Bear taking out each football league best-and-fairest award on Monday night — Deakin Reserve is certainly a great place to be at the moment.
''It is (a good feeling) and it's obviously not just us, all of the three senior netball grades are in as well, so we're just soaking it all up and enjoying it I suppose,'' Harrap said.
''I've always been one and big with the boys about celebrating success, whether that be individual or team success.
''We celebrated the '93 reunion of 25 years in the middle of the year and it was about those guys that play for our club now helping those (older) guys celebrate those moments for them.
''This was just one of those moments, with Hugo (Ingham), Mitch (Heggart) and Rokes (Nik Rokahr) winning the three, which we did in 2005 as well.
''Obviously they're joint (winners), but it's a great reward for the club and those boys as individual achievements.''
It has not always been overflowing honey pots and juicy salmon for the Bears at the dinner table of success though, with a large number of lean seasons since the club won all three football grades in 2000.
But it means that when the dam wall does break and ends the flag drought, the hard yards will certainly have made victory even sweeter.
''It would be huge mate, I never got the chance to play in a flag,'' Harrap said.
''I played two finals in 150 games of footy (for Shepparton) and obviously we've played more than that this year already.
''A lot of guys, Nick (Allan) and Rowan (Hiscock), were like that for years, so for me it would be huge to just lead this group.
''I think it can be achieved if we do all the right things and our preparation's right, yeah it's going to be challenging with Kyabram at 62 (wins) on the trot, but we'll be putting our best foot forward, don't worry about that.''
Rhys O'Sullivan is another Bear who has battled through the tough times and as a long-time teammate and coach of the veteran, it would give Harrap great pleasure to see his mate snare a premiership medallion.
''Obviously Nick and Rowan and even Ash (Holland) to that degree had that opportunity last year (to play in a grand final),'' Harrap said.
''Rhysy in his two years at Yarrawonga lost in prelims, so this was the third time lucky for him.
''He's worn the brunt of everything for this footy club for a long period of time when he was captain and it's just a good reward.
''I think he wears his heart on his sleeve, he's a passionate family man and he'll just be rapt to get that opportunity to run out on Sunday and he'll put everything into it, as we know he does each and every week.
''He's been a great asset to our team this year just with his experience and leadership, so Sunday will be no different.''
And as for his first grand final week at the helm of the Bears as senior coach, Harrap has attempted to keep his side's processes as ordinary as possible — even though they all know that come Sunday they will need to provide an extraordinary effort in order to lift the Hastie Cup.
''We just sort of went back to Tuesday and Thursday training to keep it in line with (the season), it gives them an extra day at the end of the week to get ready for Sunday,'' Harrap said.
''It's just really about keeping it as normal as possible, obviously the reality is that it's not, but that's how we've sort of tried to approach it throughout the duration of the year.
''We don't think we're making up the numbers, we think we can really do this. It's going to be challenging at times, we're going to have ups and downs, but we're just looking to make every post a winner and just give it a fair old crack.''