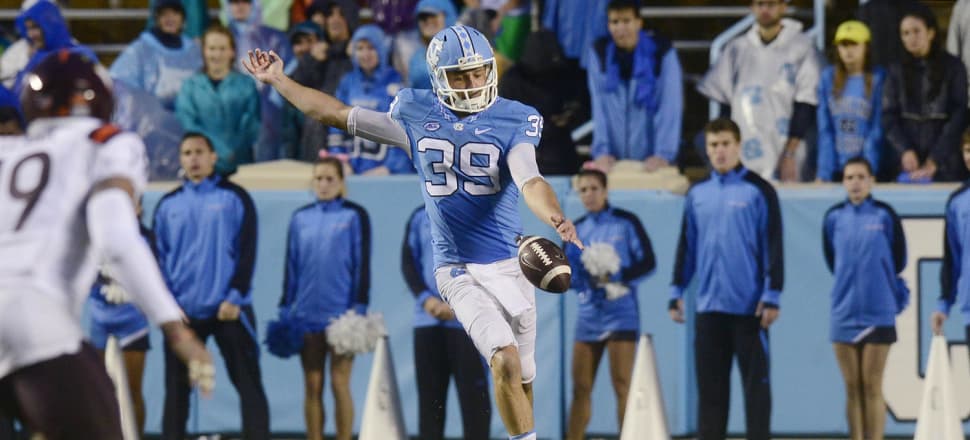 5370537724001
From America to Kyabram — Tom Sheldon's year has taken him halfway across the world and had him swap sports, yet return to the footy field like he had never left it.
Nerves will be at an all-time high in Sunday's Deakin Reserve decider, but when you have punted in front of 80000 screaming fans in college football's cauldrons, handling a Goulburn Valley League grand final seems like child's play.
After two seasons punting with North Carolina in division one college football, Sheldon returned home mid-season and has returned to the sport he loves with class.
And while welcoming back a premiership player and past best-and-fairest appears a bonus, Sheldon said his top focus had been not upsetting the apple cart.
''Very lucky I am — Paulo (coach Paul Newman) and the boys have really embraced me back into the club, which has been really nice,'' Sheldon, 29, said.
''I was a bit nervous when I came back actually — you don't want to upset things, or mess up what they've been doing. I felt a bit of pressure to keep up those standards.
''I was actually very, very impressed with the way they are doing things. Just how disciplined they are, how team-orientated and hard-working the side is.''
His senior GVL campaign started with a literal bang, with his hamstring giving way in the opening minutes of his return to the side in round 11 against Shepparton United.
Sheldon said it was an injury that had been a week in the making.
''I flew in (from America) on a Saturday morning and saw the boys were playing in Seymour, so I thought I'd drive there and have a watch,'' he said.
''I got there at about 11.30 and they were a bit short on numbers, so I thought I'd borrow a jumper and boots and all the gear and had a run in the twos.
''It was probably pretty stupid to play that weekend, and I tried to play next week in the ones, and it all caught up with me. Four or five minutes in I did a hammy and missed a month, so it wasn't overly smart.''
But his desire to return to the football field shows what a hole his two-season hiatus from the game had left in his heart.
Sheldon hoofed the ball 95 times in two seasons for the Tar Heels, averaging 44 yards (40m) per punt with a longest of 66 yards (60m).
He was named in the freshman All-American team in 2016 and nominated for the Ray Guy Award, given to the nation's best punter.
''It was awesome, it feels like it was a fair while ago now,'' Sheldon said.
''It was a great experience, very full-on and intense and by the end I'd probably had enough.
''Doing eight or nine hours a day of training for two years was probably enough for me and by the end of it I was starting to miss playing football a bit.
''The first game I played was in front of 80000 people at the Georgia Dome — that was pretty nerve-wracking. I probably didn't realise how nervous I was, it was little things like catching the ball, it seemed like that was a lot harder than it was.''
Such was his success, notions of a professional career and a tilt at an NFL roster crossed his mind — before a commonsense approach came to the fore.
''I had a think about it, but I missed the last four or five games of last season with a quad and hip injury,'' he said.
''That makes it tough, a 29-year-old with an injury like that as a punter is probably a pretty big red flag.
''This year there were only two or three jobs going too, so the odds were pretty heavily stacked against me. I got married in March too, so it was time to start a new phase of my life.''
Sheldon has played eight games this season and saved his best for the finals, shredding Shepparton with a best-on-ground display in his side's nervy qualifying final win.
He has slotted in to the side's defensive line-up, even surprising himself with the level of his output.
''It was three years since I played, so I wasn't really sure,'' he said.
''Being 29 now I wasn't overly sure how I'd get on, but Paulo has shown a fair bit of faith and belief in me and that's given me a bit of confidence.
''The boys in the back six are a great bunch and sort of find a way to help you out if you're struggling. They give me a bit of a chop out and they've looked after me really well coming back.''
Like the rest of the brilliant talent pool with which he plays, Sunday's grand final for Sheldon is about seizing the wonderful opportunity in front of him.
''You don't realise how much you love it until you're not apart of it,'' he said.
''You see them winning flags and I really felt like I was missing out. To win one would be just awesome.''