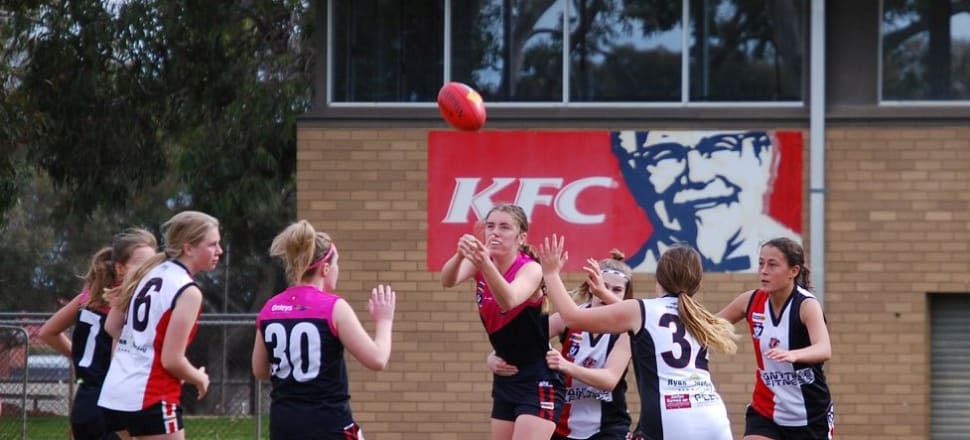 5370537724001
Benalla Saints Youth Girls' season has come to a close after being soundly beaten by 65 points by a more experienced Shepparton United outfit in the preliminary final at John Gray Oval, Mooroopna, on Sunday.
Benalla got off to a slow start, with last year's grand finalist United kicking 4.5 to the Saints' solitary point.
Following a pep talk from coach Daniel Preston at the quarter-time huddle, the Saints came together to limit their opponents to a point, though they couldn't convert themselves.
With the wind strengthening in the third term, United got the benefit of it, and added another 3.5 to its score, with its strength and teamwork a highlight.
With the game out of reach, Benalla tried hard to push for a major score, but fatigue and the strength of the Demons meant the Saints had limited ability to score.
Benalla's season showed a marked improvement, with the Saints finishing fourth on the ladder and fell just one game short of a grand final appearance.
With more coaching, teamwork and an increase in fitness, it all bodes well for the Benalla Youth Girls for the next season.
The youth side was assisted this season by several girls from the neighbouring Mansfield district and their assistance was greatly appreciated, while the club would also like to thank its coaching staff — coach Daniel Preston, who was assisted by Victoria Mitchell and assistant coaches Damon Symes and Russell Lowe.
Final score: Benalla Saints 0.1 (1) def by Shepparton United 9.12 (66)
Best players: K. Skepper, M. Cronin, O. Antonello, M. Gray, T. Gray, T. Pallpratt
MORE ON BENALLA SAINTS
Saints sink Seymour to set up Prelim rematch
Saints' finals hopes come down to the wire