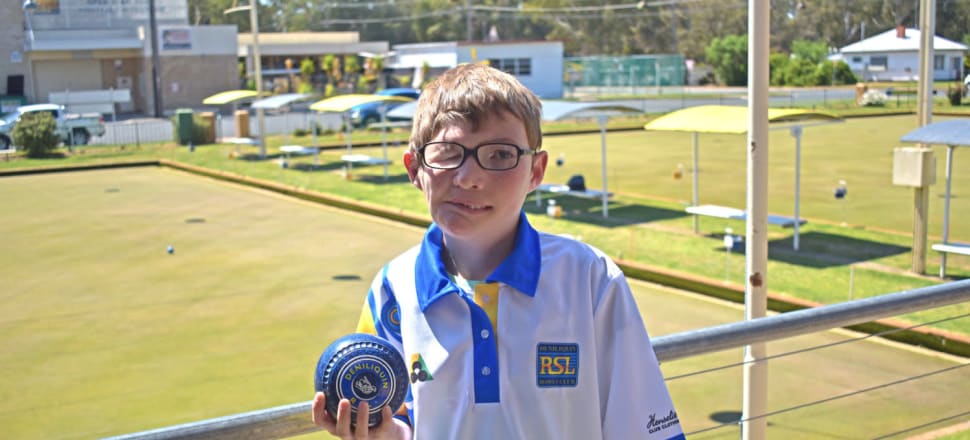 5370537724001
Deniliquin RSL Bowling Club will unveil its newest, and youngest, player when they take to the greens for the opening round of the Campaspe Valley Bowls tomorrow.
Kaigh Reid, who celebrates his 12th birthday today, will follow in his grandfather Rod Reid's footsteps when he lines up for RSL's Division Five side.
"I started bowling because I've watched my grandfather play for a while and it looked fun," Kaigh said.
"I've had a roll socially before but have been getting lessons off Daryl Weymouth at the club.
"One day I hope to play alongside my grandfather, but he is in Division One at the moment."
Kaigh has been training every week on a Wednesday night with the goal to play pennant.
His efforts will see him become the RSL's youngest player in recent history to play pennant bowls.
While some may perceive bowls as an 'old person's sport', Kaigh said it's fun for all ages.
"I like lots of sports and like to get a chance to play any sport," he said.
"Bowls is a good option for the summer and it gives me an opportunity to meet new people.
"I love meeting different people and bowls is a social sport.
"But I also want to go out there to win. A win on Saturday would be an awesome birthday present."
Deni RSL Bowls president Ken Wellard said he hopes that with Kaigh joining the club more young people will be encouraged to sign up.
"We want to encourage people of all ages to come along and play bowls," he said.
"We want to get rid of the 'old person sport' stigma, because it's a lot of fun no matter what age you are.
"The Echuca Bowls Club proved that last year with an eight year-old and 100 year-old playing in the same team. If we can get younger members to the club then the future of bowls can be in good hands."
The Deni RSL Bowling Club will be busy tomorrow with all three teams set to play at home. Teams for round one are as follows:
Division One v Echuca: Bruce Clancy, Jenny Tonta, Ken Wellard, Daryl Weymouth (s); Craig Taylor, Joanne Bovell, Tony Tonta, Conway Bovell (s); John Wilson, Chris Taylor, Rod Reid, Larry Seely (s).
Division Three v Echuca: Ken Riddle, Chris Frampton, Graham Gordon, Brian Clancy (s); Wayne Bradley, Tim Dover, Peter Liefting, Ron Marchetti (s); Don McCalman, Cheryl Bradley, Michael Howe, David Hart (s).
Division Five v Echuca: Tony Connor, Sandra Hill, Ken Bowdon, Jim Rhook (s); Kaigh Reid, Paul Connor, Miro Peterman, Tony King (s).