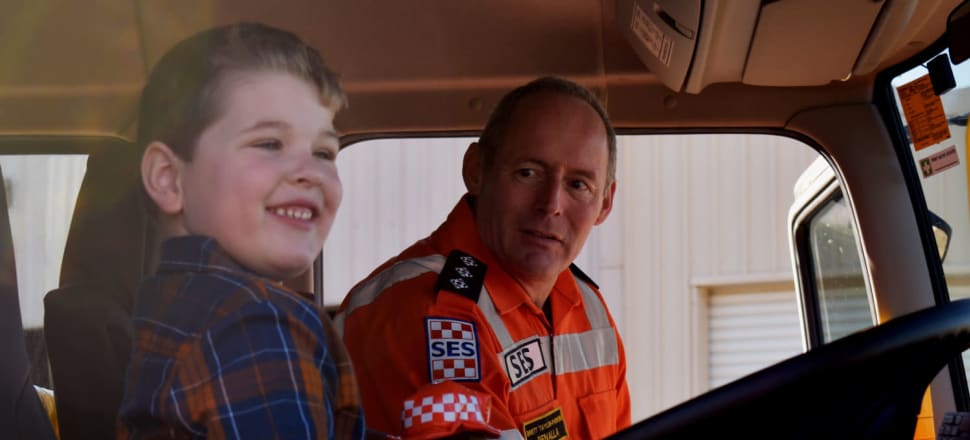 5370537724001
VICSES Benalla challenged youngsters with a colouring and drawing competition in the lead up to Wear Orange Wednesday.
Based on age, entrants either coloured a picture or submitted a drawing of an SES rescue truck.
Entries were received from children aged from two to 11 years old.
Due to COVID 19 restrictions winners were invited down to the Benalla SES Unit in two stages to meet local SES members, explore the vehicles and collect their prizes.
On Tuesday, May 26, the older prize winners Talydia Williams and Erin Jenkins received their prizes from unit controller Brett Taylor-Parkins and newly appointed unit training officer Ailsa McMillian.
"The best thing about entering the competition was the prizes and meeting some of the SES volunteers," Erin said.
"In the prize packs were a Paddy Platypus toy, information about SES and how to be safe in, and near floods, floodwater, tsunamis, storms and tornadoes.
"There was also a torch and radio, a waterproof satchel and some other really cool stuff."
Younger winners William Turley and Amira Ford were shown the ropes on Saturday, May 30, exploring the trucks and admiring all the sights and sounds of the Benalla Unit.
Young William described the helmets worn by members as "awesome".
"We love the fantastic drawings and colouring-in that we received to celebrate all SES volunteers for Wear Orange Wednesday, Mr Taylor-Parkins said.
"I'd like to personally thank all of the Benalla SES members for volunteering at all hours of the day and night, and in all weather, to support the Benalla community when they most need it."
The VICSES Benalla Unit trains every Wednesday night from 7.30 pm and always welcomes new members interested in serving their community.
● If you are interested in joining, phone Benalla unit controller Brett Taylor-Parkins on 5762 7676 or email [email protected]