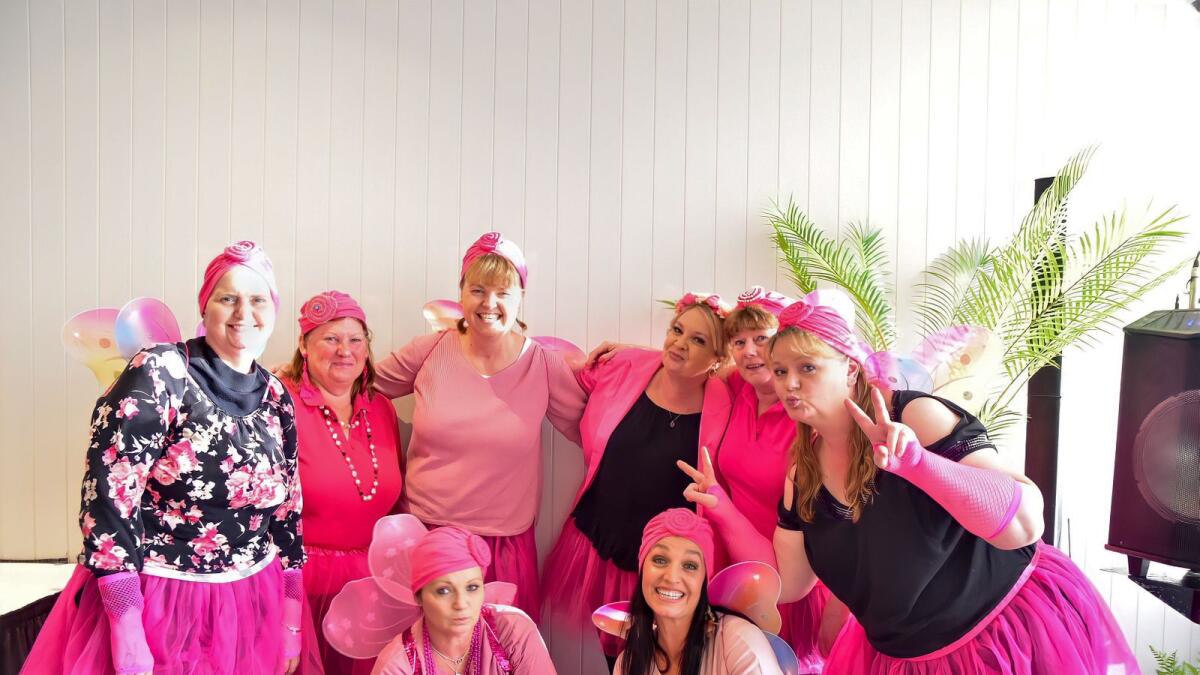 The Corowa RSL Club transformed into a sea of pink for the McGrath Pink High Tea held on Sunday, May 29.
The event, organised by fundraising champion and Corowa local Kay Blakeley, raised over $4,500 for the McGrath foundation with over 100 guests in attendance.
There were auctions, raffles and door prizes on the day with many hot ticket items including a bottle of Morris of Rutherglen Whisky and a Vodafone Test Series 2012/13 cricket bat signed by the Australian and Sri Lanka teams.
Auctioneer Peter Ellis provided great entertainment encouraging guests to open their wallets for a great cause.
The newly refurbished Ms Birdie function space was the perfect setting for the event with beautifully themed table decorations and outstanding catering provided by the Corowa RSL Club. Guests enjoyed a selection of treats including sausage rolls, jelly slices, meringues, scones, and tea, as well as a few glasses of bubbles.
McGrath Foundation fundraiser Kay Blakeley said the overall day was "fantastic".
"The feedback I received was that everyone thoroughly enjoyed the day," she said.
"People came up and told me it was the best one yet, so that's been really good to hear."
Ms Blakely said she appreciated the support she received in putting the event together.
"We had so many sponsors come on board which really made the day a great success," she said.
"I want to thank those sponsors and everyone who turned up to the event. These events don't happen unless people are willing to attend.
"The music from Billy Arnold was great. Billy donates him time and drives all the way from Benalla to be part of the event. I can't thank him enough.
"I would also like to thank Peter Ellis, our wonderful auctioneer, the RSL Club's executive chef Dulan Dias for shaving his head and beard… I might add Dulan raised over $1,100 which was incredible. Naomi Robb, who was the hairdresser, did a great job.
"Coral Williamson, Pam Trump, Pat Maclean and Chris Kent are just a few names that were also an enormous help on the day selling raffle tickets and assisting with the set up on the day."
Ms Blakeley also expressed her heartfelt thanks to Corowa RSL Club Functions Manager Helen King.
"Everything just ran so seamlessly because of Helen. She and the staff did a great job. Nothing was too much trouble," Ms Blakeley said.
"The room looked absolutely fabulous and really added to the atmosphere,"
Every dollar raised from the day will go directly to the McGrath Foundation who provide invaluable support and care to women and men experiencing breast cancer through the special Breast Cancer Nurses.
More than 95,000 families have been supported by the McGrath Foundation since 2005, and more nurses are needed to meet the growing rate of breast cancer diagnosis in Australia.
Over the years, Ms Blakely has raised more than $100,000 to support breast care nurses in regional areas through High Teas and other pink fundraising events. After seven years of organising the annual event, Ms Blakeley told the Free Press it would be her last fundraiser and thanked the Corowa community for their continued support.
"Thank you to everyone for their support for the cause and contributing to a great day," she said.