All Blacks girls give their all
A-Grade
A grade was looking forward to coming up against Milawa this week to hopefully secure the win that they missed last season out by one goal, but unfortunately it wasn't meant to be this game.
Score at the end being 37-51.
Credit to the girls in the last quarter as we went out to make sure we won that quarter and they did just that by scoring 12 goals to their nine goals.
Alara Jones got in the best for working hard and shooting 24 goals for the game and also Samantha Bochtler feeding into the circle and then coming into goals last quarter.
Olivia Cavicchiolo also got in the best for her defence work all game and rebounding when those missed opportunities occurred for Milawa.
Everyone worked hard to try come back, but unfortunately Milawa was too accurate with their shooting and defensive pressure.
We have things we know we can improve and work hard on when we come up against them again shortly in the season.
Score: All Blacks 37 to Milawa 51
Awards: Alara Jones (Ray White Award), Olivia Cavicchiolo (Jenny Milner Voucher) Samantha Bochtler (Allure Luxe Voucher).
B-Grade
Going into Saturday's game the team knew it would be tough against the top-of-the-ladder Milawa.
With a slow start, the team finally found its rhythm in the second quarter.
Benalla was able to match it down the court, unfortunately not always being able to capitalise on opportunities.
Grace O'Connor was fantastic in reading the attacking play of Milawa, being able to intercept and turn over the ball throughout the game.
Working with Grace in the defensive circle was Bernie O'Brien, who was able to make it difficult for the shooters to receive the ball close to the goal.
The two defenders worked tirelessly for the duration of play.
Brooke Bradshaw was also named in the best for her ability to move and control play in the goal ring, being the key goaler for the game.
Despite the scoreline ending 34-63 in Milawa's favour, the team can take a lot of positives from the game.
With a few things to work on for when they come up against them again in a few week's time.
Score: All Blacks 34 to Milawa 67
Awards: Grace O'Connor (Royal Hotel Meal Voucher), Bernie O'Brien (Benalla Gold Cup Entry), Brooke Bradahaw (Rustik Cafe Voucher).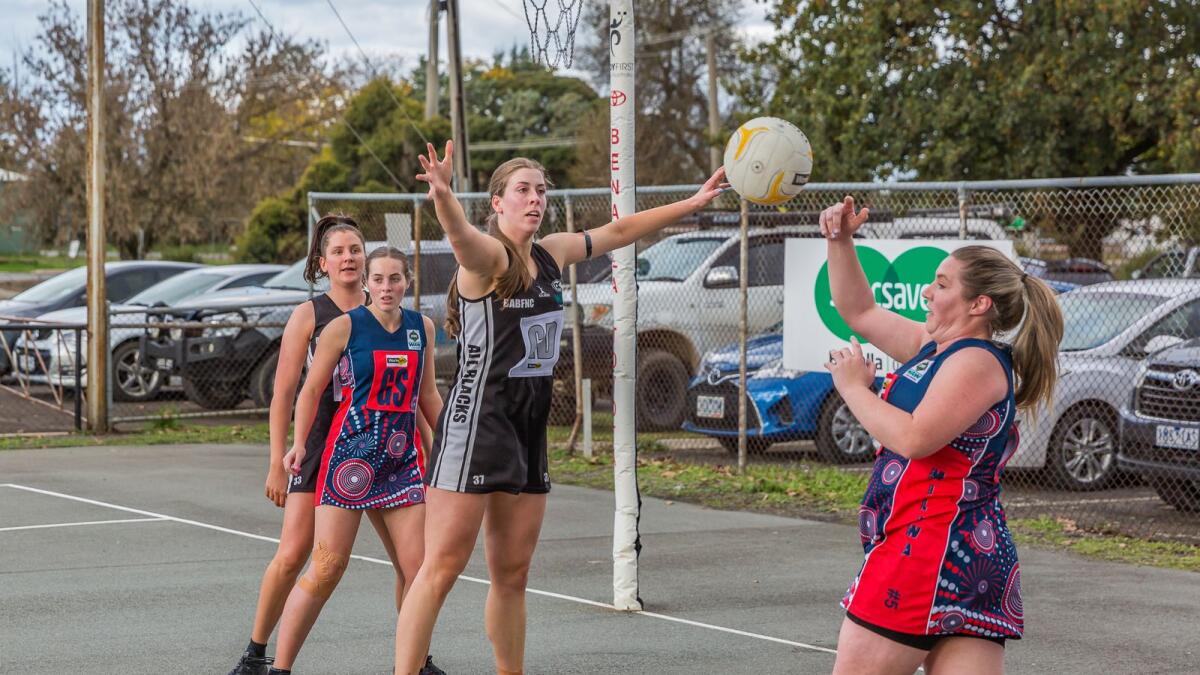 B-Reserve
This week was a frustrating game for the girls.
Coming off an absolutely stellar game of netball last week, we wanted the win against Milawa to cement a place in finals, however, this wasn't to be.
Chloe Dods, Keeley Sheehan, Grace Pastuszka and Emma Sangster worked over time in the defensive end all game, getting intercept after intercept and making Milawa work hard to get their goals.
The accuracy of the Milawa shooters became our undoing this week, with the Milawa girls able to get a goal on the board when the ball was in the ring.
Mel Reaper and Courtney Sammon move beautifully in the ring together.
Mel, Courtney, Tay Bate and Jess Stocker all put in brilliant defensive pressure in the attacking end, after being drilled about this at training.
Overall this week was certainly not our best with a lot to work on at training, but it'll allow the girls to take a step back and regroup before our next opponent.
Score: All Blacks 19 to Milawa 42
Awards: Chloe Dods (Benaa Toyota/Delatite Ford Award), Emma Sangster (SportsPower Voucher), Grace Pastuszka (All Blacks Club Dinner).
Under-17
The girls had a hard physical game against Milawa.
Jazyah Young who was named best on court worked tirelessly all game in defence alongside Kayla, Eliza and Ruby trying to get as many intercepts and rebounds but Milawa shooters hardly missed a shot.
Our shooters Jessica and Haylea who were also named in the best shot nicely together forcing them to take some risks and shoot further away from the goals just to score.
Remi and Alia again played a great game feeding our shooters.
Final scores were Milawa 40 to All Blacks 18
Score: All Blacks 19 to Milawa 40
Awards: Jazyah Young (Mel Goodwin Tupperware), Jessica Holland (Spot 4 Icecream), Haylea Smith (McDonald's Voucher)
Under-15
This week's game was very exciting and low scoring with a lot of back and forth through the court.
We started the game a little slow, heading into the second quarter down by four.
With some super defensive work from Grace Cooke, Eliza Sammon and Imogen Randell, we managed several turnovers to even the score, seven-all at half-time.
The third quarter saw our girls score just one goal to Milawa's two.
We outscored them in the fourth by a single goal to end the game with a draw.
All nine girls played their role superbly.
This week the girls and their coach head to Melbourne to attend a three-day netball camp and are super excited for what that brings to our team.
Score: All Blacks 14 to Milawa 14
Awards: Grace Cooke (River Resin Voucher), Imogen Randell (Meecy & Maive Creatives Voucher), Eliza Sammon (McDonald's Voucher)