Expect a colourful event: Horbury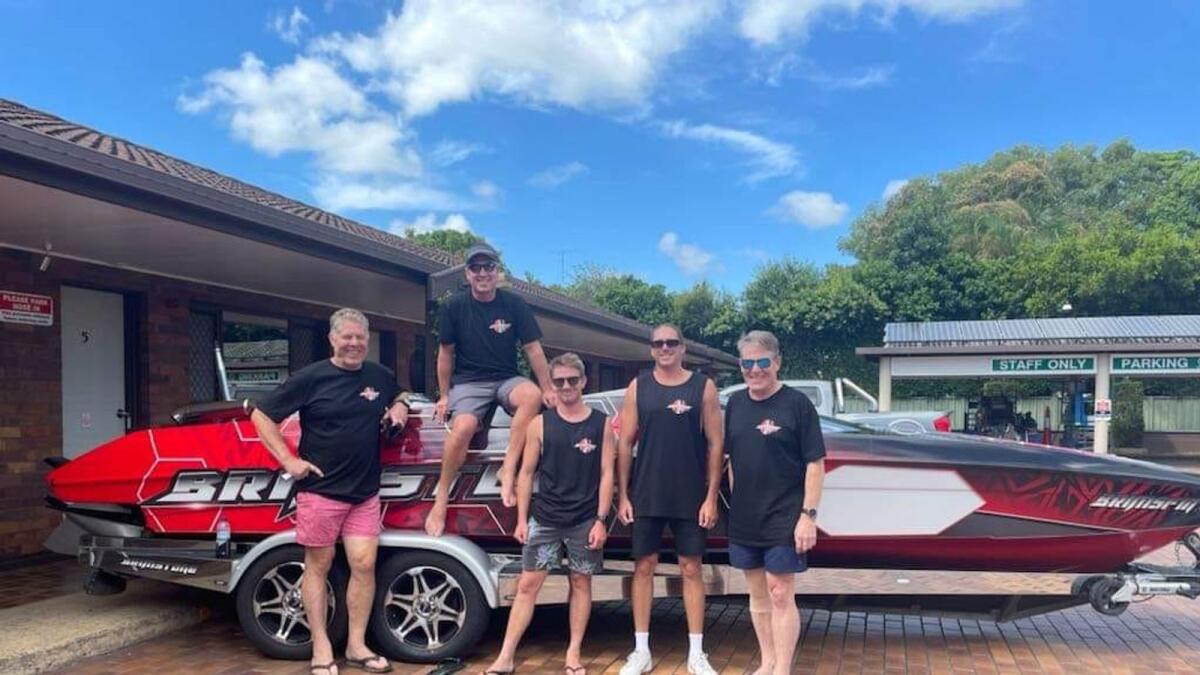 Ski racing enthusiasts in Echuca and Moama can expect the most colourful Southern 80 in recent memory as teams have returned from the COVID-19-enforced layoff with renewed enthusiasm for the sport.
Ski Racing Australia chairperson Jon Horbury — who spent his formative years in Echuca before re-locating to Mildura — said the amount of boats and vans that were not "wrapped'' had hit a new high.
"The amount of boats and vans with wraps will make the Southern 80 a real spectacle. People have really invested in the sport, not just the superclass teams, but at every level," he said.
Horbury, who will be at the driver's wheel of superclass boat Brimstone Racing, has competed at the Moama Waters Sports Club event for seven years.
He will have Ballarat's Tom Perry and Queenslander Bradley Williams behind his boat and elder brother Tim in the observer's seat of the 23-feet long Force craft.
Tom Perry was a moto x rider and a high-level boundary umpire for a number of years. His father was an AFL boundary umpire.
Brad Wiliams is a surfer, who regularly travels overseas to Indonesia for big waves.
"Brad's whole family has been ski racing for years. His father Chris has brought him through the junior ranks and he is now one of Queensland's better skiers," Horbury said.
John and his brother, Tim, were both born in Cohuna, then moved to Echuca when I was two.
"I remember Echuca, it is where we went to kinder and grade one. We have a bit of Echuca history," he said.
Horbury, who resides in Sydney but has business interests in Victoria and NSW, has a long history with water ski racing.
Horbury has been SRA chairperson for the past two years, the national body responsible for providing insurance and strategy to its membership.
"Events like the last Southern 80, Robinvale, Wentworth and Mildura are run by clubs. The clubs use our insurance, liability and race cover for their events," he said.
Brimstone Racing didn't finish at the Wentworth event in superclass, was third at Robinvale (its first podium in superclass) and fifth at Mildura.
"There is Superman, then Sapphire is starting to close the gap, then there is a group of us at the next level," he said.
He started with Brimstone F1, which was a 21-foot boat, towing his son Curtis and a Sam Perry (brother of Tom) in Under-16 boys.
"We actually broke a record that had been broken only a year earlier by Pigs Arsenal in that class. Before Pigs Arsenal had set the new mark it had stood for 10 years,'' Horbury said.
His son Curtis still races, but behind another boat.
"He wasn't keen to do the training required for the superclass, we now tow Sam's brother Tom," Horbury said.
"And we still hold that record in Under-16s (set in 2015)."
From there the team went to the unlimited class at the Southern 80, which they won it in 2018 — when they made the decision to make the rather significant leap into superclass.
"Both our skiers have really great credentials and are very committed," Horbury said.
"Brad jumps on a plane every time we practice. He flew down to Melbourne, and we drove him up last week to practice at Echuca."
The Brimstone Racing completed the whole course on Saturday and then a shorter run to "five mile'' on Sunday, sitting on about 100mph during the practice run.
"We did come across a few fisherman, so we gave them some space," Horbury said.
"On Saturday there were only two or three practising, but there was probably six on Sunday."
Horbury said the Torrumbarry end of the course looked really good, but he had noticed the water level was down the closer the team got to Echuca.
"You can really see it around Cadell. We've been informed there is a bit of water trickling through though," he said.
Competitors knew that running the race at a different time of year would present challenges, but Echuca-Moama Water Sports Club had four boats remarking the river during the weekend's unofficial practice session.
Horbury said the sport was in as good a state as it had ever been, in fact, he expected membership numbers to be slightly up by the end of this year.
"The number of boats that have had their signage put on them, and their race vans, is great. People are invested in their team and the sport," he said.
"This year will be the most colourful Southern 80 we have seen."
Horbury said there was a really good group of people with their shoulder to the wheel, which meant the future of the sport was assured.