Violet Town to honour flags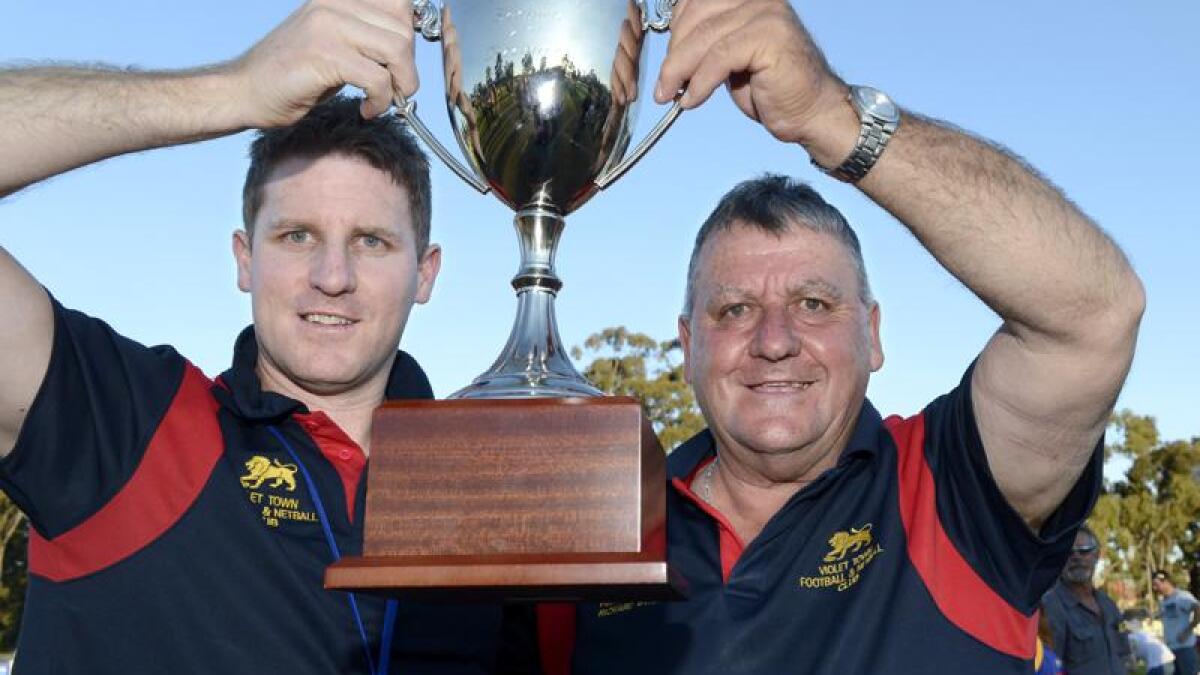 You be the judge, 82 or 12
This Saturday will see two teams celebrate premierships from two vastly different eras, the 1982 fairytale win over an undefeated team and a super powerful undefeated team convincingly saluting.
In 1982 Bonnie Doon was destined to end its premiership drought, undefeated all year including a thumping 10-goal win in the second semi final against Violet Town.
There was no stopping the bulldogs.
On Grand Final day as it was back then a melee erupted early in the first quarter maybe initiated by the Towners, from then on, the favourites chased tails and before they knew it the Towners couldn't be caught, in a huge upset the Violet Town team led by the wily Tony Levy and a young gun in Andrew Knowles (21) hung on to win 13.10.88 to 10.13 73, our first flag since 1961.
In 2012 son of club great Ray "Daffy" Lamaro, Hayden, led a team that took all before them, undefeated all year they comfortably lifted the cup with an emphatic 76-point win in the grand final against Undera, the first premiership and champions in the club's history, 23.18.156 to Undera 11.14.80 and arguably one of the great KDFL's sides of all time.
So, the question, who wins if these two premiership teams were to meet on a hot sunny day in mid-September both in their primes, 1982 or 2012, the team that beat the undefeated all year or the team that won undefeated all year?
Lots of interesting facts; Tony Levy replaced Ray Lamaro following the 1981 season now he would be up against his son Hayden.
Both teams had the league medallist that year, Andrew Knowles and Russ Lee, both clearly the best that year and now immortalised in the club's history.
Surely the Lamaro coached team of 2012 go in as overwhelming favourites, deja vu, that's what happened in 1982 and 2012, so how do we judge?
Peter Fulton, a best and fairest winner at full back, takes on record-breaking Craig Whelan at full forward, Fulton beat the best time and time again, Whelan was just a superb full forward, on one occasion kicking 35 goals in a game.
Jay Pearson has the unenviable task at centre half back taking on arguably our greatest footballer Andrew Knowles — this contest could decide the game.
The Towners defence of '82 was as it good as it gets, tough uncompromising and talented, could they hold the equally efficient prolific goal scoring machine of 2012?
So, then there's the midfield: Lee, Gleeson, Hayes and Patty Horsburgh versus McFarlane, Best, Shanks and Tatterson. Wow wee there's some hard nuts in there, and the class of Lee and Tatterson would be on show.
The 2012 backline would have to contend with not only Knowles but a clever Geoff Anderson, a goalkicking machine in Ray Croxford and the forward craft of blokes like Joey Looby and Mark Waters, but in saying that, Ben Ballinger, Saddington, Pearson and Rigney were a very tight unit.
The wings of 2012 see Nick Abley and gun Jake Williams up against triple premiership play Gavin Ellis and Norm Lethlean, skills versus endeavour, speed versus toughness, it would be interesting if the game was in the balance late into the third quarter.
The half back line of '82 was revered, Gary Abley, Gary Washusen and Mark Facey were rarely beaten, they would take on today's general in Tim Ross, Power and now 300-gamer Bo Harrison, would love to see the battle between an 18-year-old Gary Abley and his niece's husband Tim Ross!
And then you've got this year's coach (six times) Sean Horsburgh running around with someone like David "Cactus" Currie on his tail.
And… it was a different game 30 years apart, in '82 a player could just go to sleep behind play for no apparent reason… so, a good player could find himself whacked with the ball at the other end, all in brawls were common, there was no send off rule, it was tough and hard, that's not saying the 2012 couldn't handle that, a bloke like Tim Ross would have fitted into the 1982 side easily as would Saddington, Sean and Pat Horsburgh, Gleeson and Sage.
As would the likes of Knowles, Tatterson, Fulton and Anderson in the 2012 side.
So, who wins? I reckon there would've been a good old-fashioned stoush at the start of the game, '82 would lead at half-time then the skill and fitness of 2012 would start to take control... scores level at three quarter time! To be continued on May 28!
You be the judge!
Great times for the Towners either way.
Come and see the players of those eras this Saturday, some won't look the same (82), some will (12).
We play a great team this week in Nagambie, who must just about have a premiership reunion each year given their dominance over the last 20 years.
— Big Al Signing off